Oviphomos (short for Ovipar-humus) are a human-like species from the planet Anoterra.
Biology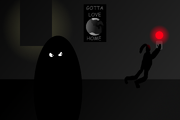 Oviphomos look identical to
humans
.
Behaviour
Oviphomos sit sitting up, using beds that are similar to dog baskets with backrests.
Diet
According to Samantha's Species Scanner, Oviphomos are herbivores.
Reproduction
Unlike humans, Oviphomos reproduce by laying eggs.
Language
It's considered polite to address someone by their relation to you. For example, Ellenseren referring to Samantha as 'Daughter Samantha'.
History
At some point in history, many Oviphomos were abducted from Anoterra. These Oviphomos were used in experimentation to create the Amalgem Oviphomos.
Notable Oviphomos
Related Species
Etymology
The name Oviphomo comes from oviparous (animals that lay eggs) and homo (relating to their similarities to humans (homo-sapiens) and homo, meaning same).
Trivia
According to Samantha's Species Scanner, the Advancement Level for Oviphomos is Level 9.