Human

General Information

Home World
Earth
Intelligence Level
Sapient
Related Species
Amalgem Human (artifical sub-species)

Details

First Appearance
Human Knowledge (in pictures)
Humans (short for Homo-sapiens) are a sapient species from the planet Earth.
History
At some point in history, many humans were abducted from Earth. These humans were used in experimentation to create the Amalgem Humans.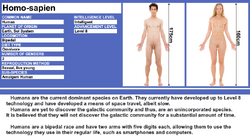 As revealed by Samantha's laptop, humans have not discovered the galactic community and are believed that they won't for a substantial amount of time.
Samantha was researching about humanson her laptop.
Technology
According to Samantha's laptop, humans have developed Level 8 technology.
Related Species